Rural Rest
Good morning. This is resting theology.
An opinion piece in The New York Times this week commented on the "brain gain" happening in rural America, where young, educated workers are moving in droves to quieter cities and rural landscapes. Many of them are returning home, but many immigrate for the first time.
Last week, Money released a study on the best places to live in America, and many of them were indeed smaller cities in more rural areas. Number one on the list? Clarksville, Tennessee. I had to look it up.
Of the top ten cities on the list, only two could be considered rather populous areas—Madison, Wisconsin, and a particular district in Chicago. The rest were sleepy "niche" cities like Bentonville, Arkansas; Round Rock, Texas; or Fishers, Indiana.
These findings support data in a McKinsey report called "The Future of Work in America," where researchers note that—outside of the urban core and periphery—niche cities will see the most job growth over the next ten years. In fact, "small powerhouses" have already seen the most job growth in the last ten years.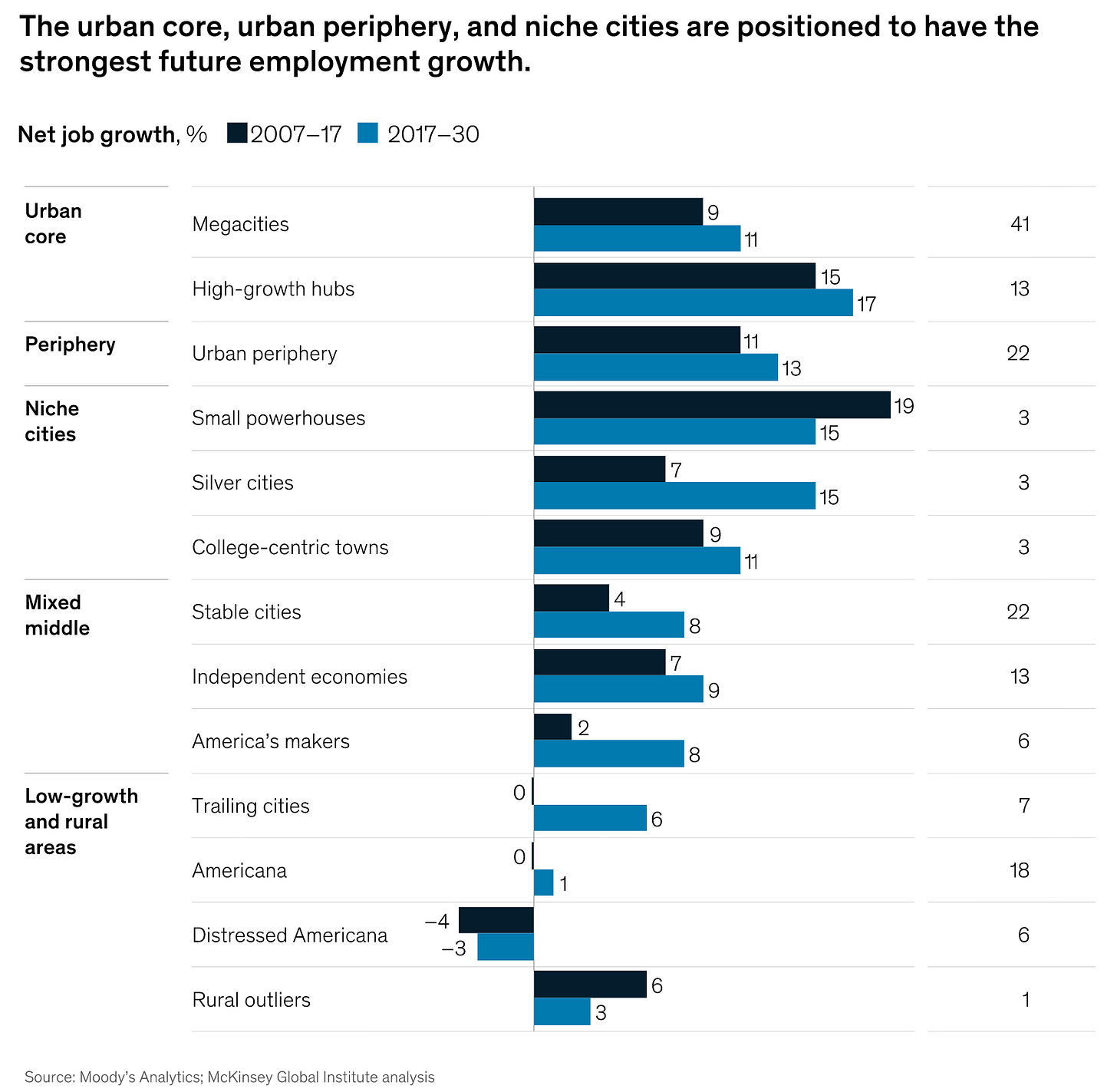 What does this have to do with rest?
My hunch is that people are growing weary of the hustle and bustle of big cities. They're tired of the all-night noise, molasses traffic, and the go-go-go of their jobs. It's why we moved from Dallas to Fort Worth.
As I look back on this week, after working over time, traveling to New Jersey and back for a client project, driving across the metroplex with my marketing group, and failing my accounting exam, I want something quieter and more relaxed too. I want rest.
In the first century, the city of Corinth was known as a center of commerce. The educated elite went to their offices, the street traffic crawled to a halt, the go-go-go of their ancient jobs went-went-went.
So, when Paul wrote his first letter to the church at Corinth, he had a very specific group of people in mind: talented, educated, hard-working people in a major city.
He wrote, "If I speak in the tongues of men and of angels, but I do not have love, I am a noisy gong or a clanging cymbal. And if I have prophecy, and know all mysteries and all knowledge, and if I have all faith so that I can remove mountains, but do not have love, I am nothing."
In this context, the letter must have hit them like a ton of bricks. Here was one of the most famous leaders of the entire church telling them that, with all their sophisticated business skills and all their talent and education, they were nothing. They're not truly loving one another, so despite all the success they've achieved, they're clanging, noisy, and meaningless busy-bodies.
Instead, as talented workers in our sophisticated economies and modern cities, we ought to remember that "love is patient, love is kind, it is not envious. Love does not brag, it is not puffed up. It is not rude, it is not self-serving, it is not easily angered or resentful. It is not glad about injustice, but rejoices in the truth. It bears all things, believes all things, hopes all things, endures all things."
I hope this weekend you can rest deeply enough to remember that your main job is to love others well. I'll be thinking of that too. Maybe we can plan a trip to a quiet, small "powerhouse" to power down.
Thanks for reading.