Friedman's Follower
Good morning. This is working theology.
Last week I had a meeting with my economics professor in which he turned my intellectual world upside down. For a while I've been preaching the good news of stakeholder capitalism and all its glory. CEOs are overpaid, communities are suffering, income inequality is at staggering levels, and all that.
Thinking about McKinsey's latest report on the social contract in the twenty-first century only solidifies these arguments in my mind. But, as I found out, maybe I'm not as educated about these ideas as I thought. Maybe they're a little naïve.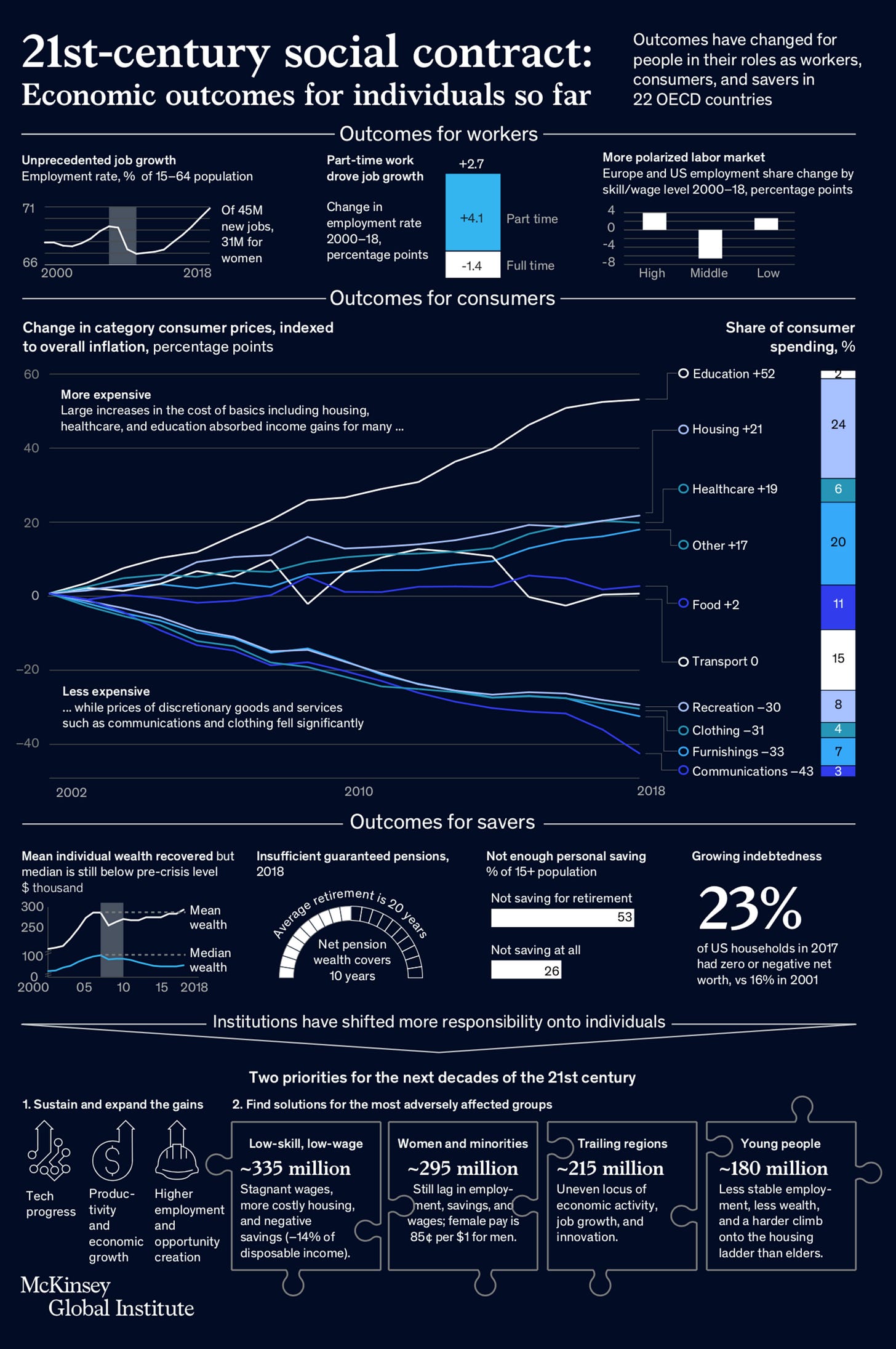 I asked my professor his thoughts and he said, "That's a terrible idea." He then regaled me with arguments that caused me to stop and think about what I was saying, and then he gave me a reading list.
"Read Friedman's article 'The Social Responsibility of Businesses' and Capitalism and Freedom," he told me, "and then read Hayek's The Fatal Conceit."
So, I did. At least the first few chapters of each. I also listened to a summary of The Third Pillar by Raghuram Rajan, which I really want to dig into more.
It's hard to describe the exact worldview that is now in my mind, since it's very fresh and very paradigmatic.
However, the crux of Friedman's arguments is that an executive is hired to make decisions that achieve the goals of his or her boss—the shareholders. Shareholders own the company, and it is they whom the executive serves.
Additionally, we have three branches of government in the United States to provide checks and balances on the state's power. Taxes are a tool of that power, and various governmental bodies restrain that power.
But if an executive decided to impose a tax on the business—which is essentially what "socially responsible" investments do, since they can be less profitable—he stands as executive, legislator, and juror over other people's money, deciding what to do with it and by how much. He is ultimately king.
Besides, what is "socially responsible" to one person is not "socially responsible" to another, and the scenarios required to have such responsibility as a corporation are infinitely complex. It also blurs the line between government and business and which role is whose.
On top of that, maximizing the return to shareholders ultimately—that is, in the long run—adds the greatest value to the business and its stakeholders, in the form of higher wages, a better product to consumers, and a growing, healthy business. These forces are shaped by the market through what Hayek calls "spontaneous order."
For these reasons and more, I'm reconsidering whether the role of business is to invest back into its community, or if it is, in fact, to maximize profit. Perhaps Friedman has a new follower indeed.
Stay tuned for more on this. Many questions have arisen in my head.
Thanks for reading.