Corona Conversations
The crisis shows us who we are — but also who we can be.
Good morning. This is working theology.
Several weeks ago, my economics professor challenged one of my strongly held beliefs, and it's shown me only how deluded and narrow my own thinking has been. And, in turn, it's shown me how deluded and narrow a lot of thinking has become. Writing this letter to you has taken a few weeks now, as I understand its ironic, Wittgensteinian futility.
In a recent New York Times column called "The Right Sends in the Quacks," Paul Krugman, a Nobel laureate economist, wrote something I've been feeling for a while now: "One thing the coronavirus has thrown into sharp relief is the centrality of quackery—confident pronouncements on technical subjects by people who have no idea what they're talking about—to the whole enterprise of modern conservatism."
Of course, it's not just conservatives. I'll get to that in a second. But I am surprised at how many people I know who are suddenly trained epidemiologists, explaining the details of viral transmission. Or perhaps constitutional lawyers describing the ins and outs of states' sovereignty versus federal authority. Or professional economists who can weigh the implications of opening businesses or granting stimulus money, by how much and to whom.
It's not just acquaintances though. Very reputable sources, too, give conflicting information. No one knows what the hell is going on. As an example, here's a screenshot of my Google News feed from just yesterday.

Do you notice anything wrong with those headlines?
A quote often attributed to Aristotle has been banging around in my head lately: "Generalities are the refuge of a weak mind." We often talk past each other, using vague generalities and labels that are just unhelpful. Conversely, I've realized that those who are truly educated on certain subjects cite specific examples and details to explain their point. They know the people involved in critical decisions, or they know the theories and the histories and underlying presuppositions of ideas influencing those decisions.
I've concluded that educated people have entirely different conversations than the rest of us, delicate conversations about which the general public doesn't really understand.
---
The crisis over the past few weeks has continued to break down civil discourse, which was already pretty bad, especially after the 2016 election. Each side blames the other for the difficulty we're facing. Here's The New York Times' opinion section from the other day.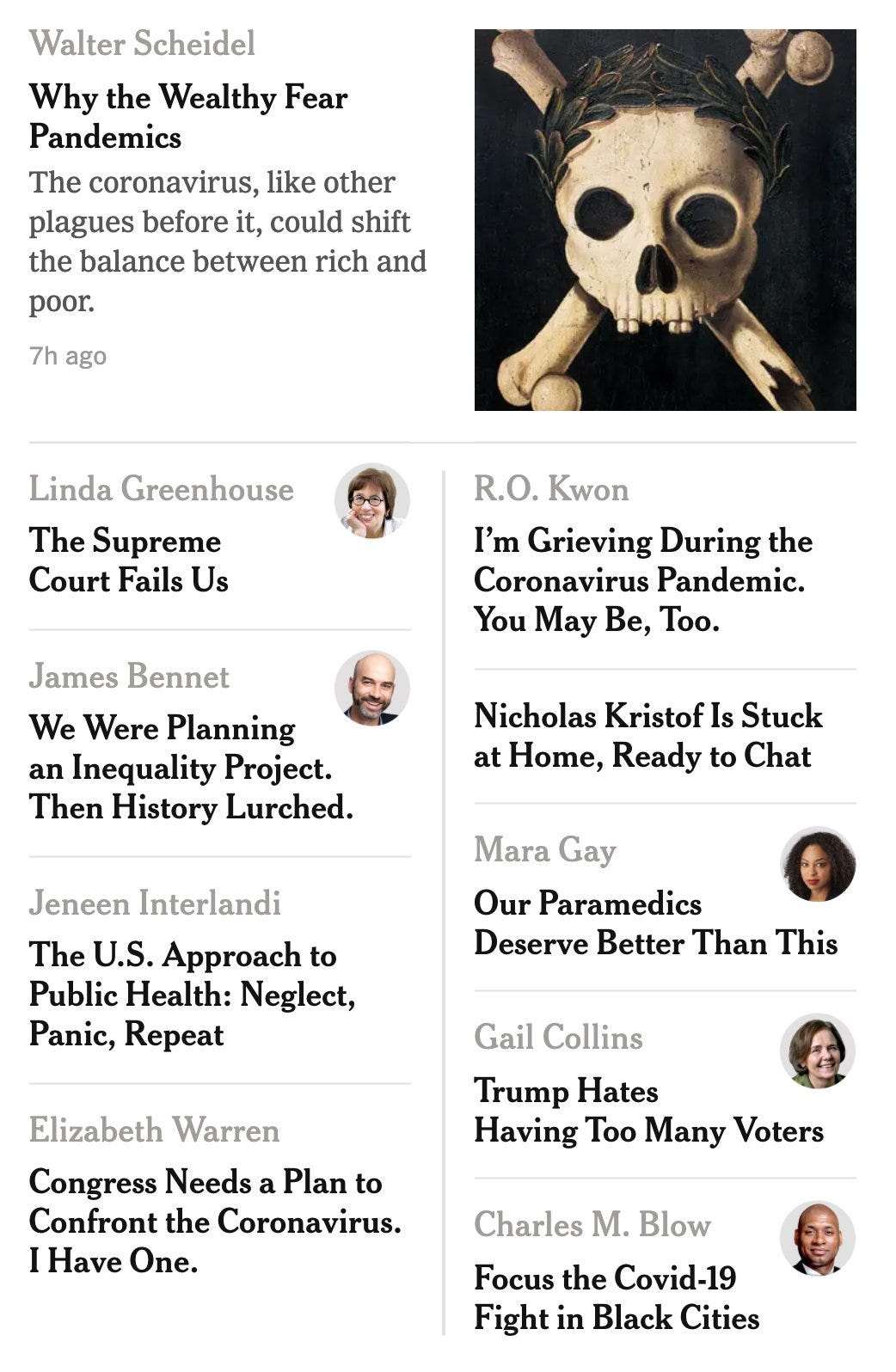 But before you think that it's just the left, know that Fox News isn't any better. Pelosi gets "slammed" for this and that. Some commentator "blasts" Governor Cuomo for his failure to do such and such.
It cuts both ways.
The most left-leaning, socialist friends I know run small businesses, while the anti-government, conservative friends I know anxiously await the government's stimulus checks.
The virus merely exposes our fears. We may feel we don't have what we need to survive. We can't forecast the future and plan for what to do. So, we blame. It's easier that way.
We talk in generalities about "the media"—despite the thousands of media outlets that hold our government in check and report to us raw data. Or we talk negatively about "the administration"—despite the dozens of advisors surrounding the administration and the millions of government workers around the country fighting the disease and wars on our behalf.
I've heard people blame Wall Street, and I've heard others blame the poor. I've heard some blame the young for being careless on their beaches, while others blame the old for being ignorant of the severity. Keynesian economists blame the government's lack of response, while Austrian economists say the government has gone too far.
I'm beginning to think like the Teacher in Ecclesiastes when it comes to conversation: "Everything is meaningless."
In his popular book Hillbilly Elegy, JD Vance writes eloquently about the hillbilly mindset, which is basically a description of hopelessness. The hillbilly believes it's always someone else's fault for the mess they're in. The coronavirus has simply created hillbillies out of us all.
---
The truth is no one knows what to do, and that's understandably a terrifying feeling. Just this week a story was published in The Wall Street Journal where the leaders of our most esteemed corporations are, quite literally, "making it up as they go."
The CEO of Ford, as an example, said, "We don't have to put people in space suits, but we have to do more than hand sanitizers." That's all anyone really knows at this point: The appropriate response to COVID-19 lies somewhere between space suits and hand sanitizers.
But when it comes down to it, this whole thing is just a faceless, merciless disease crawling its way across the planet, killing the old, the young, the sick, the healthy, the rich, the poor, the "data-driven," the high school dropouts, the Republicans, the Democrats, white people, black people, Asian and Latino people, Europeans and Africans, and everyone in between.
Solutions to the coronavirus—and every other issue ailing our society for that matter—are complicated. It's not easy to decide how much economic stimulus the country needs. It's not easy to spend that money once you do decide how much it should be. It's not easy to even give people their money. It's not easy to sit inside for weeks on end. It's not easy to completely transition your company from physical to digital, if you even have that option.
None of this is easy for anyone involved, but the discourse I hear is that it's just some light switch you flip on and off. "Where's the data? Where's the money? Where's the leadership? Where's the communication?"
It's not easy to do this stuff. An event like this has never happened in our lifetimes.
---
In one of my favorite short stories called "The Bet," Anton Chekhov accurately described this feeling I've been having while trying to make sense of the crisis and others' attitudes toward it.
The plot is this: A man takes a bet with a banker to live alone for fifteen years, with nothing but books and food, to win two million dollars. At the end of the allotted time, the banker finds the man asleep on a letter with the following words penned on its pages.
I despise your books, despise all worldly blessings and wisdom. Everything is void, frail, visionary and delusive as a mirage. Though you be proud and wise and beautiful, yet will death wipe you from the face of the earth like the mice underground; and your posterity, your history, and the immortality of your men of genius will be as frozen slag, burnt down together with the terrestrial globe.

You are mad, and gone the wrong way. You take falsehood for truth and ugliness for beauty. You would marvel if suddenly apple and orange trees should bear frogs and lizards instead of fruit, and if roses should begin to breathe the odour of a sweating horse. So do I marvel at you, who have bartered heaven for earth. I do not want to understand you.
However, the opening part of the letter describes a much better way to be.
You might have been thinking, "Man, you are reading way too much news." Perhaps you're right, but I also feel, after reading quietly for hours, something like the first half of the man's letter.
For fifteen years I have diligently studied earthly life. True, I saw neither the earth nor the people, but in your books I drank fragrant wine, sang songs, hunted deer and wild boar in the forests, loved women . . . And beautiful women, like clouds ethereal, created by the magic of your poets' genius, visited me by night and whispered to me wonderful tales, which made my head drunken. In your books I climbed the summits of Elbruz and Mont Blanc and saw from there how the sun rose in the morning, and in the evening suffused the sky, the ocean and lie mountain ridges with a purple gold. I saw from there how above me lightnings glimmered cleaving the clouds; I saw green forests, fields, rivers, lakes, cities; I heard syrens singing, and the playing of the pipes of Pan; I touched the wings of beautiful devils who came flying to me to speak of God . . . In your books I cast myself into bottomless abysses, worked miracles, burned cities to the ground, preached new religions, conquered whole countries . . .

Your books gave me wisdom. All that unwearying human thought created in the centuries is compressed to a little lump in my skull.
---
I'll close with someone I respect from afar. He seems to be a sharp, detail-oriented person who also understands the big picture and who also seems to care for the people working for him.
Jamie Dimon, the CEO of JPMorgan Chase, is arguably the most influential person on Wall Street. A few weeks ago he published his annual letter, which is required reading—much anticipated reading—for anyone in finance. Perhaps surprisingly he above all captured the wisdom of the day.
Entering into a crisis is not the time to figure out what you want to be. You must already be a well-functioning organization prepared to rapidly mobilize your resources, take your losses, and survive another day for the good of all your stakeholders.
That's probably the best we can hope for. All else is mere speculation.
To quote it again, "Entering into a crisis is not the time to figure out what you want to be." Amen.
This crisis has taught me that I want to be a positive force in the conversations I'm having, though I'm finding this mission to be rather difficult at the moment. But we carry on being positive, in this crisis and the next one. We must be hopeful—and blameless—no matter what happens.
Thanks for reading.